Day 1
I have to tell you about the amazing new sports bras i just got in from amazon today! They're called Fittin Racerback Sports Bras. You can get four in a pack for less than $30! As if the price already isn't fantastic, they are also true to size. The colors I got were black, white, teal and gray. They're super soft. They are fabulous!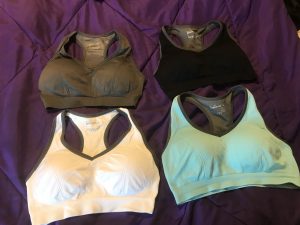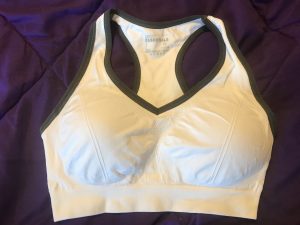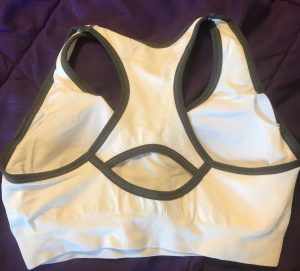 I opened the package pulled the teal one out and immediately tried it on. I actually ended up keeping it on. They're comfortable enough to wear all day with a T-shirt and you or anyone else would never know the difference. No I didn't workout, it's Sunday aka rest day.  I'm definitely trying one of these puppies out tomorrow when I start my Jillian Michaels Hard Body dvd and I'll let you know what's up.
The coverage is absolutely on point and it doesn't make my girls flat. I know y'all know what I'm talking about. It's absolutely ridiculous that most sports bras give you no lift at all and flatten you out like a pancake. Nobody wants that! These actually have cups, you can take them out if you'd want to. I absolutely cannot stand getting a sports bra and having to make sure my workout is so intense, that there's no possibility that i am going to get cold. Because that's just a whole other nightmare.
Day 2
I put on my Fittin this morning and jumped on the treadmill while watching a Grey's Anatomy on dvd, so no commercials! Yay! No, I didn't run. In fact, I don't run. Ever. I say, "If you see me running, you should too, because something is definitely chasing me."
I walked for almost 2 miles. The breathable fabric is fantastic. I sweated a lot and this bra isn't wet! I'm telling you I love this bra so much! Not only is it a great everyday T-shirt bra, it's an amazing treadmill bra.
Had to go to Walmart so I can get my husband a yoga mat so he can do Hard Body with me. I took a shower and swapped the teal bra for the black one. It's just as amazing as the teal one. Pretty sure my mom is getting some of these for Christmas!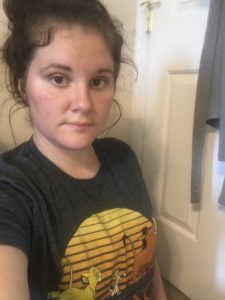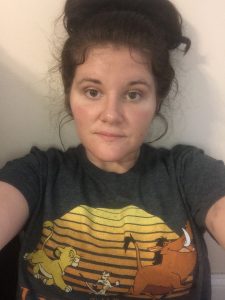 Just did Jillian Michaels Hard Body. Only for 15 minutes because she totally kicked my butt! But the bra did great during my workout, me not so much.
I washed my teal bra in hot water with like colors. When I got it out of the washer honestly, I was a little disappointed. One of the cups had moved all the way to the other side. It was a quick fix. I didn't put it in the dryer. I always air dry bras.
Day 3
The bra is dry! It was actually probably dry yesterday, but I didn't check on it. It's just as soft as when I got it out of the package. It's not deformed at all.
Overall, I think Fittin Sports Bras are amazing and I would definitely order again. I most likely won't buy another brand unless they look like they'd be better than these and have a better price. If I do decide to buy another brand, I'll let you know the results. Buy Fittin! You'll love them as much as I do!